Servo Integrated Controller
The HYDRO-MAXX™ Servo Integrated Controller (SIC) is the first Fully-Integrated control system to reach the Hydrogen-On-Demand (HOD) market.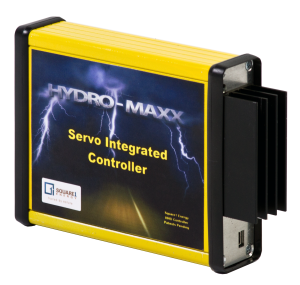 Recently, Pulse-Width Modulators, (PWMs) have been used by some in the HOD industry an attempt to control the operating state of the electrolyzer — while offering considerable advantages over brute force electrolysis — these devices are typically output only. This results in the need for constant operator attention and adjustment to keep these systems tuned and working effectively.
The HYDRO-MAXX™ Servo Integrated Controller (SIC),  eliminates this issue by integrating sensors into the control system and monitoring variables such as;
operating voltage
current
temperature
These variables are monitored through  Analog to Digital Converters,  (ADC) and servo control algorithms, (similar to those used in robotics systems.) This data & logic virtually eliminates the need for constant human adjustment… resulting in increased system performance, efficiency and the assurance of safe operating conditions.
Other features of the SIC  include All Digital monitoring and  adjustment of the following parameters;
Frequency
Pulse Width
Current
Temperature
Auxiliary Pumps
Motors
Fans
Custom I/Os may be added for user specified applications
The HYDRO-MAXX™ Servo Integrated Controller (SIC) is the first HOD  controller utilizing TRUE DIGITAL OUTPUT,  eliminating the hysteresis seen with traditional transistor outputs.
The  SIC  can also manage  "Auto-Refill  & Severe Weather"  systems  as a Fully Integrated Controller, monitoring each system's own pumps, level switches, and sensors, as well as vehicle interfaces like, oil pressure, fuel pump, and run circuits with NO PROGRAMMING!  Built in Safety Features, like over pressure, temperature and auto-venting on shutdown make the SIC the  most advanced HOD controller available to date.